Created Monday, May 31, 2021
FOR IMMEDIATE RELEASE
GREENFIELD – Leo's Market and Eatery employees are using their hard-earned money to support furry friends in need of a home.
Through a voluntary paycheck contribution program, employees gathered $2,595 and voted to contribute the funds to the Hancock County Humane Society, a no-kill, non-profit animal shelter operating in the county since 1977.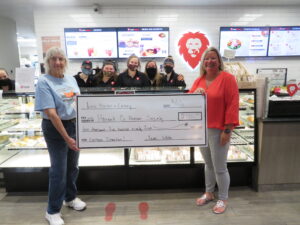 Some $9,800 has been donated to several county nonprofit organizations through the Pride's Purpose community enrichment fund.  This is the third such event held since the Greenfield Leo's Market and Eatery location, 2212 W. Main St., opened in July 2019.
When a new employee is hired at Leo's Market and Eatery, one of the first things they do is decide whether to make a charitable donation of a portion of each paycheck into the fund.
Leo's Market and Eatery matches 100% of each of those donations, meaning for every dollar donated by employees, Leo's also contributes a dollar to the fund. Leo's Market and Eatery encourages employees to donate part of each paycheck to support its core values, including community mindedness.
Leo's and Pride Investment Partners also pursue sponsorships, dine-to-donate events, volunteering and making donations to local nonprofit organizations. Past contributions have gone to the Landing Place, the Hope House homeless shelter, and Mental Health Partners of Hancock County.
The Humane Society houses an average of 40 cats every day, either in its shelter or in the homes of volunteer foster parents, said Beverly Reece, Hancock County Humane Society treasurer and adoption coordinator.
The contributions made by Leo's Market and Eatery employees will go toward operating costs, which in the summer include increased air conditioning bills, along with the usual veterinary bills for spays, neuters, and other healthcare for the cats, which is included in the cost of adopting from the Humane Society, Reece said.
Tami White, Pride Investment Partners board member, said employees decisively chose the Humane Society to donate to during this round.
Getting to watch employees choose where their contributions go and getting excited about improving the community is a powerful thing, she added.
"It's their money, and that goes a long way," she said.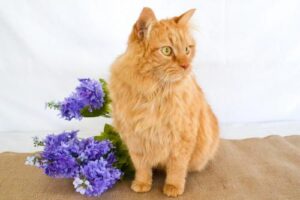 –     –     –     –     –     –     –     –     –     –     –     –     –     –     –     –     –     –     –     –
Leo's Market and Eatery is a hybrid grocery and restaurant, serving delicious fresh-baked kolaches, salads, soups, and much more, and providing fresh, local produce, meat and groceries to the community. There are locations in Greenfield and Noblesville, with a third planned in McCordsville.
For more information, please contact: Rorye Hatcher| Marketing and Communications Associate | [email protected] | 317-468-2515 x. 228 | c. 618-731-8256