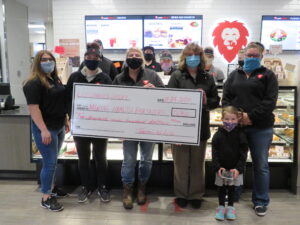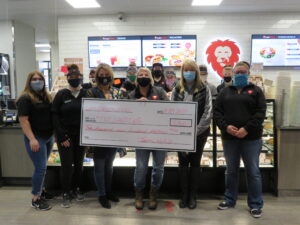 Left: Leo's Market and Eatery employees present a check for $2,900 to Mental Health Partners of Hancock County; right: Leo's Market and Eatery employees present a check for $2,900 to The Landing Place.
GREENFIELD, INDIANA – Employees of Leo's Market and Eatery on Tuesday donated some $5,800 to two local nonprofits through a paycheck contribution program.
Through compiled weekly donations, employees provided $2,900 each to The Landing Place and Mental Health Partners of Hancock County during the second-annual "Pride's Purpose" presentation. Their weekly contributions into the Leo's Community Enrichment Fund are matched dollar for dollar by parent company Pride Investment Partners.
A few weeks ago, managers at Leo's Market and Eatery, 2212 W. Main St., Greenfield, asked employees to help decide where their money should go back into the community. Employees submitted their votes from a list of nearly 20 entities serving Hancock County and the surrounding area.
Leo's Market and Eatery encourages employees to donate part of each paycheck to support its core values, including community mindedness. Leo's and Pride Investment Partners also pursue sponsorships, dine-to-donate events, volunteering and making donations to local nonprofit organizations.
Leo's Market and Eatery boasts a tremendous team, said Tami White, Pride Investment Partners board member.
"Our employees truly care about our community and their customers, so when they are given a chance to support Hancock County, it just comes very natural for them," White said. "This is one of many perks of being in a small-town community."
Last year, during the inaugural Customer Appreciation Day at Leo's Market and Eatery, employees presented checks of $750 each to the Landing Place and the Hope House homeless shelter.
Employees this year again chose to support The Landing Place, a Greenfield nonprofit organization that provides a place for teens age 13-19 to meet and learn real-life strategies and principles to break the cycle of addiction, dysfunction and destructive behaviors while learning healthy patterns of living and maintaining lifelong sobriety.
Founder Linda Ostewig said it's heartwarming to receive continued support for the youth-oriented organization, which has maintained an attendance of about 20 young people to its Wednesday evening events despite Covid-19 lowering turnout.
"I love that people love our youth," she said. "Things like this help us stay sustainable."
Leo's employees chose Mental Health Partners of Hancock County as the second recipient of this year's donations. Mental Health Partners is dedicated to improving the quality of life for people affected by mental illness through advocacy, education, and support services. Some of the programs MHP oversees throughout the year include connecting county residents to resources in their communities; counseling and support groups; providing backpacks to people experiencing homelessness; and an addiction recovery program.
"I am so surprised," said executive director Kim Hall. "This is wonderful news for the year we've had."
She said her organization has received more requests for assistance in getting mental health help than ever – helping get 15 people into addiction recovery houses and dozens more find counseling or psychiatric resources.
 –     –     –     –     –     –     –     –     –     –     –     –     –     –     –     –     –     –     –     –
Leo's Market and Eatery in Greenfield is a hybrid grocery and restaurant, serving delicious fresh-baked kolaches, salads, soups, and much more, and providing fresh, local produce, meat and groceries to the community. Two additional locations are under construction in the McCordsville and Noblesville areas.
For more information, please contact: Rorye Hatcher| Marketing and Communications Associate | [email protected] | 317-468-2515 x. 228 | c. 618-731-8256